Seiko Astron GPS Solar 39mm Blue Dial SSJ003J1
Simplicity and convenience with just three hands and a date calendar. This Seiko Astron GPS watch features Calibre 3X – the very latest Astron GPS Solar movement. In size, in energy efficiency and in signal reception, it demonstrates how far Seiko's technology has come since the introduction of the first GPS Astron Solar watch. The case is less than 40mm in diameter thanks to the reduced GPP reception antenna that uses components distributed across a single plate. The watch maintains the same high level of reception performance and offering a power reserve of approximately six months. Seiko Astron: the world's first GPS solar watch which never needs a battery change – powered by light, automatically adjusted to your time zone through the latest GPS technology. Model Specification: SSJ003J1 The watch has a super hard-coated stainless steel case and bracelet. The case measures 39 mm in diameter. The model features a blue ceramic bezel. A three-fold clasp with push-button release secures the bracelet.  A sapphire crystal with a super-clear coating encases the dial. The blue dial is contrasted by luminescent indices. Features on the watch include a day display, an overcharge prevention function, a perpetual calendar, a power save function, a GPS signal receptor as well as flight mode.  The watch is water-resistant to 10 bars or 100 meters.  Movement type - GPS Solar. The watch is accurate to ±15 seconds per month (without receiving a GPS signal and at temperatures between 5°C and 35°C ). Calibre - 3X22
customers are viewing this product
Free Shipping
On Orders $100+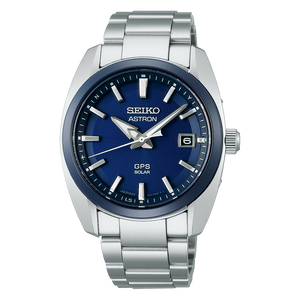 Simplicity and convenience with just three hands and a date calendar.
This Seiko Astron GPS watch features Calibre 3X – the very latest Astron GPS Solar movement. In size, in energy efficiency and in signal reception, it demonstrates how far Seiko's technology has come since the introduction of the first GPS Astron Solar watch. The case is less than 40mm in diameter thanks to the reduced GPP reception antenna that uses components distributed across a single plate. The watch maintains the same high level of reception performance and offering a power reserve of approximately six months.
Seiko Astron: the world's first GPS solar watch which never needs a battery change – powered by light, automatically adjusted to your time zone through the latest GPS technology.
Model Specification: SSJ003J1
The watch has a super hard-coated stainless steel case and bracelet. The case measures 39 mm in diameter. The model features a blue ceramic bezel.
A three-fold clasp with push-button release secures the bracelet. 
A sapphire crystal with a super-clear coating encases the dial.
The blue dial is contrasted by luminescent indices.
Features on the watch include a day display, an overcharge prevention function, a perpetual calendar, a power save function, a GPS signal receptor as well as flight mode. 
The watch is water-resistant to 10 bars or 100 meters. 
Movement type - GPS Solar. The watch is accurate to ±15 seconds per month (without receiving a GPS signal and at temperatures between 5°C and 35°C ).
Calibre - 3X22